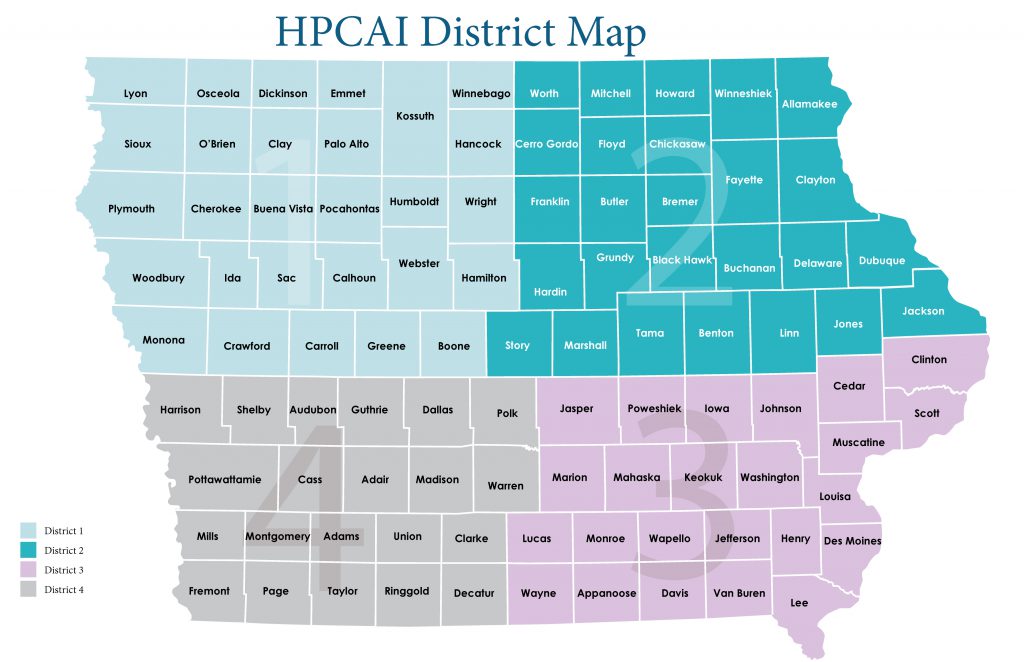 Upcoming District Meetings:
District 1
Erin Dausel
Horn Memorial Hospital
Upcoming meetings: Email Erin Dausel for meeting times and login information.
District 2
Lavonne Noel
Hospice of Dubuque, Dubuque.
Upcoming meetings: 1 p.m. Thursday, April 13 at the Cedar Valley Hospice Office in Independence, July 13, Oct. 12 and Jan. 11, 2024.
District 3

Kimberly Endecott
Every Step Hospice, Mt. Pleasant.
Upcoming meetings: 1 p.m. Friday, Feb. 10, April 14, June 9, Aug. 11, Oct. 13, Dec. 8
District 4

Lynnea Andersen Hospice of the Midwest, Johnston.
For Zoom information please contact the following:
D1-Erin Dausel – edausel@hornmemorialhospital.org
D2-Lavonne Noel – noell@hospiceofdubuque.org
D3-Kimberly Endecott – kendecott@everystep.org
D4-Lynnea Andersen – lynnea.andersen@hospiceofthemidwest.com